Jig & Puz... Jigsaw and Puzzle! Our brand name is composed of the beginnings of two words typically used for jigsaw puzzles in English, "Jigsaw", and, among other languages, French and German, "Puzzle".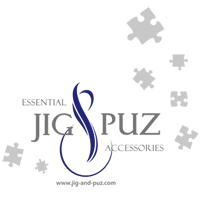 Jig & Puz... Your jigsaw accessory specialist!

Our starting point was the fact that not one traditional jigsaw manufacturer proposes a complete range of accessories. To us, this should include jigrolls for up to 6000 pieces, both liquid glues and glue sheets, as well as puzzle tables or other accessories to assemble and transport jigsaws. We aim to fix this by providing a range of accessories that includes all these items. Starting in late 2019, we will add more and more items to our range, and plan to offer the largest selection of jigsaw accessories worldwide by late 2020.
The largest selection of accessories, best prices and and high quality: these are the main aims we strive for in order to provide all the accessories you might need while assembling a jigsaw. By the way, did you notice? Our three jigrolls are "Made in France, Made in Europe" - in fact, made in Moselle!